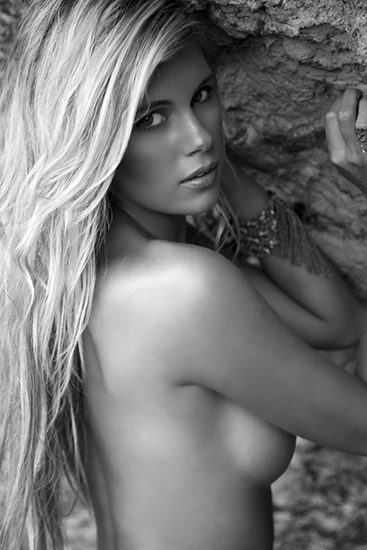 Brooke Gabrielson • nbrooke@earthlink.net
949-887-4373 • willemphotographic.com
CHRISSY
A New Portfolio by Dominic Petruzzi
If you have a serious interest in this portfolio and would like to view a page showing all 16 images, please click
here
, and be sure to let us know your name.
Please visit us at our gallery located at, 426 Calle Principal in downtown Monterey, California.
Willem Photographic is proud to announce the publication of, 30 sixteen-print portfolios entitled "CHRISSY".
The 16 photographs in each portfolio are the result of four separate sessions by photographer Dominic Petruzzi of swimsuit and fashion model Chrissy, primarily in Laguna Beach and Newport Beach.
The archival pigment prints are on 16x20 high quality Moab Entrada Rag Natural paper, printed by Monterey master photographer and printer Ryuijie. They are presented in a very nice clamshell case with both the printed Title and Colophon pages and each of the 16 prints in a clear protective sleeve. The portfolio is a limited edition of 30 sets, with each print signed and numbered.
It is being offered at an introductory price of $2500. The price will be tiered upward in the future as sales progress. Dominic's work has sold for $1,000 or more for a single 16x20 print. So, this is one of those rare occasions when gorgeous photographs and a bargain price ($140 per print!) go hand-in-hand.

Update - Dominic just had a single photograph sell in a NYC auction for $2250, coincidentally the same price as all 16 of the portfolio prints. And Chrissy recently joined Elite Models in Miami, Florida, one of the best agencies in the U.S., and will be posing for GUESS ads, which is a very desired job. So both of their careers are on the upswing!